Do you feel like you hit certain clubs well but can't seem to make solid contact with others? If you've longed for a golf swing so consistent that every club becomes your favorite one, this is the series for you. Taking a tag-team approach, renowned instructors Aimee Cho and John Montgomery III will help you build a solid golf swing with everything from your driver to your putter.
It is the dream of every golfer to shape shots on command and Rory is here to help. In 9 Shots with Rory presented by WHOOP, Host Martin Hall and Rory McIlroy break down the keys to hitting every shot from the low draw to the high fade and everything in between.
In the season finale of The Golf Fix, host Devan Bonebrake teaches how a tennis ball can help add distance and eliminate a slice. Plus, he reveals the key to great fairway wood contact and demonstrates his favorite speed, strength and mobility exercises.
Rory McIlroy explains how GolfPass will benefit your game
Play
Get waived transaction fees and a monthly £25 Hot Deals tee time credit for GOLFNOW, valid at 9,000 courses worldwide.
Learn
Play better golf with access to lessons from coaches like Sean Foley, Michael Bannon and Chris Como who've worked with Rory McIlroy, Tiger Woods and Justin Rose.
Watch
Go behind the scenes with your favourite players, watch exclusives like The Conor Moore Show and Feherty interviews with the worlds best players.
Travel
Explore new destinations and play new courses with expert advice from GOLF Advisor, plus up to £200 off Golfbreaks.com getaways!
You'll get access to lots of exclusive content just like this...
Latest News with Golf Today
Frequently Asked Questions
GolfPass is the best all-in-one membership for anyone who loves the game. Watch world-class instruction from coaches the pros rely on anywhere, anytime, on a number of devices. Receive monthly GolfNow tee time credits for use at 9,000+ courses, along with free TaylorMade golf balls for annual memberships are a few of these exclusive benefits. To see a complete list of everything GolfPass has to offer, click here.
Are different membership options available?
GolfPass offers convenient monthly and annual membership options for as little as £4.99 a month. You can compare memberships here.
Does GolfPass offer a trial?
Yes, and it is free! If you like your GolfPass trial, don't touch a thing and your membership will automatically continue for as long as you choose to remain a member. Cancel any time with two clicks online before your free trial ends and you will not be charged.

Will I be notified before my membership renews?
Yes! All annual memberships get notified via email as early as 30 days ahead of renewal date. You can conveniently with two clicks make sure 'Auto-Renew' is enabled so none of your exclusive benefits are interrupted. You can manage the 'Auto-Renew' from your account online or get help from our Golfer Support team.
Can I cancel my GolfPass membership?
In the event you need to cancel, you may do so by contacting our Golfer Support team via telephone (subject to opening hours) or by turning off your 'Auto-Renew'. With auto-renew turned off, your membership will expire automatically when your subscription is scheduled to end. For full Ts&Cs and to determine if you're eligible for a refund click here.
Annual GolfPass subscription payments are refundable within first thirty (30) days if you have not used any available GolfPass membership benefits following the purchase.
Get a FREE dozen TaylorMade golf balls when you join as a GolfPass Annual member!
Access exclusive shows and videos like Rory & Carson's Podcast and My Roots. Watch anywhere with our mobile apps on Apple and Android.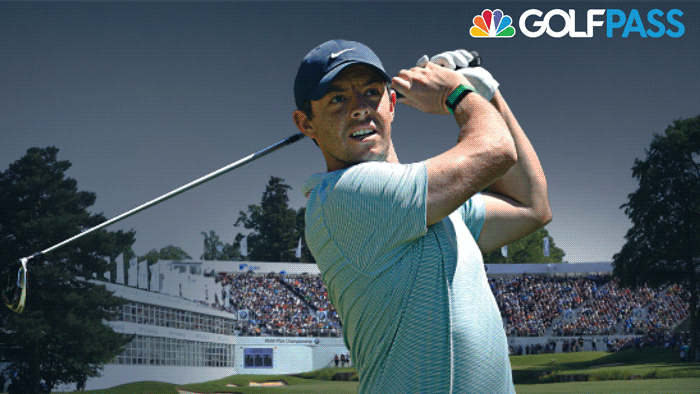 Purchase a GolfPass Annual subscription and save £20 a year, plus you'll receive a dozen TaylorMade golf balls!